Minimum Wages in West Bengal: w.e.f 01st July, 2023 to 31st December, 2023
Minimum Wages in West Bengal has been revised by the state vide notification number: 28/Stat/2RW/9/2022/LCS/JLC dated 28/07/2023.
The Minimum wages in west Bengal has been revised for 33 Schedule employment in Zone A and Zone B.
Zone A: Area under Municipal Corporations, Municipalities, notified Areas, Development Authorities and Thermal Power Plant Areas including Township Areas.
Zone B: All the Areas which were not included in Zone A.
Effective Minimum wages as per Zones provided below: (all values in INR)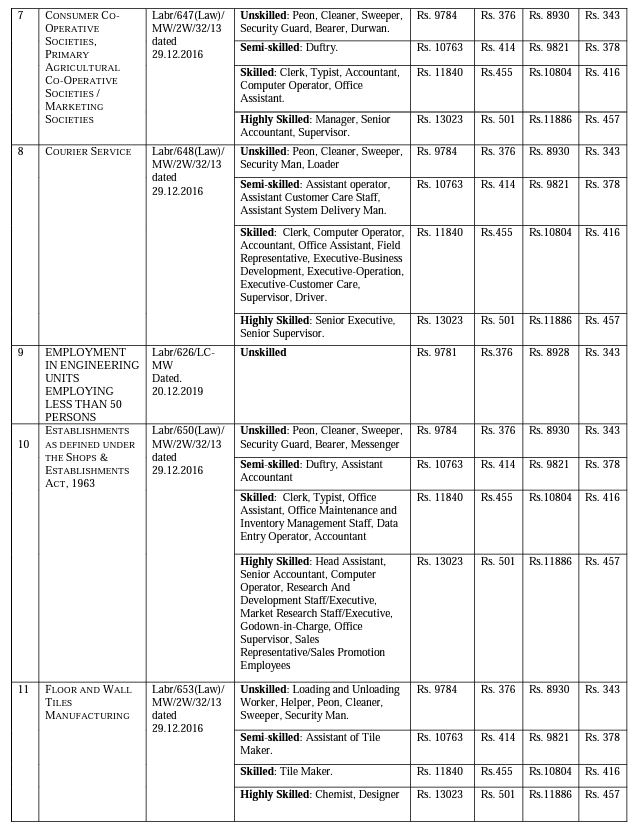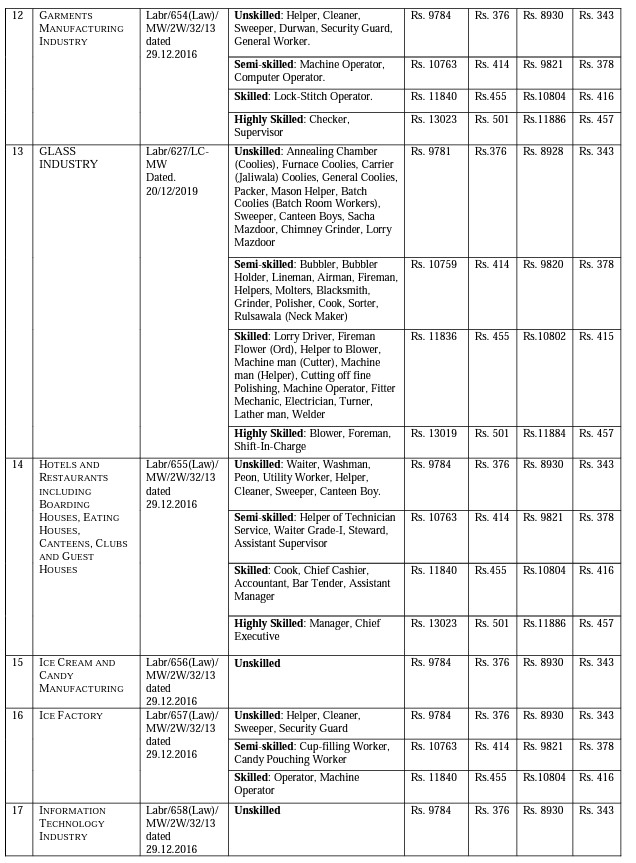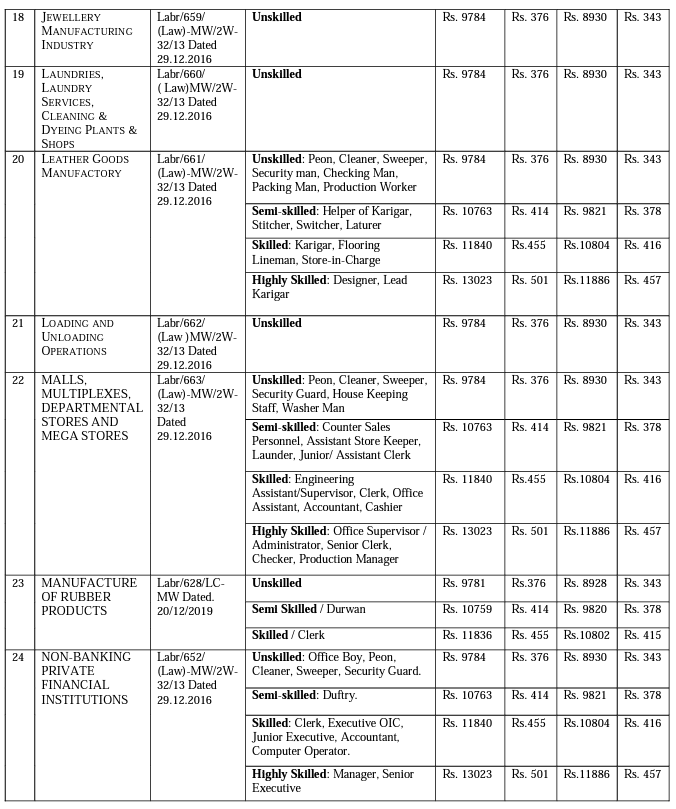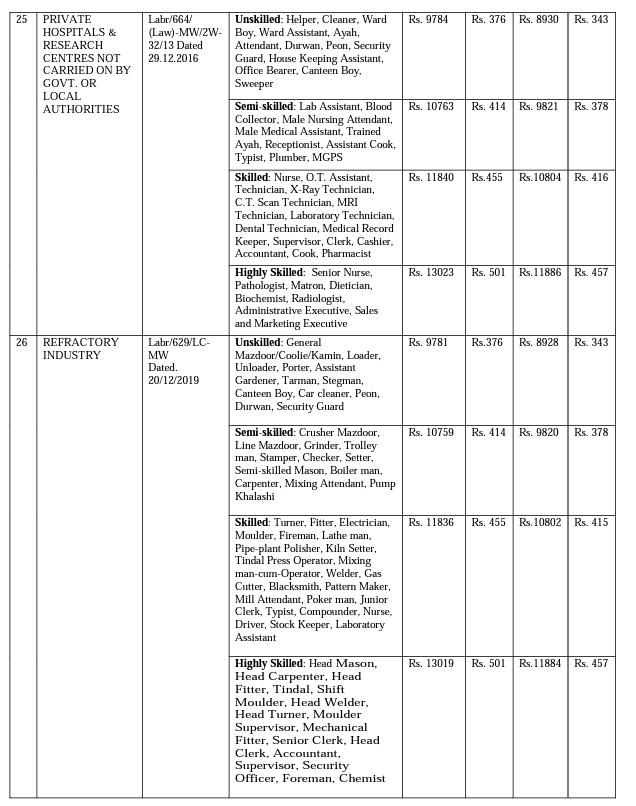 You may download the official notification by click here.
Minimum Wages in West Bengal: w.e.f 01st July, 2022 to 31st December, 2022
Again Minimum Wages in West Bengal has been revised by the state with effect from 1st July, 2022 to 31st Dec, 2022 for Schedule Employment.
West Bengal Government published its official notification on 6th July, 2022 vide notification number: 108/Stat/2RW/9/2022/LCS/JLC.
Area and Skill-wise Minimum Wages payable by the employer or companies to its workers or employees mentioned in the below table:(All Values in Indian Rupees)
| Sl No | Category of Workmen | M.W in Zone A(Per Month) | M.W in Zone A(Per Day) | M.W in Zone B(Per Month) | M.W in Zone B(Per Day) |
| --- | --- | --- | --- | --- | --- |
| 1 | Unskilled | 9239 | 355 | 8380 | 322 |
| 2 | Semi-Skilled | 10163 | 391 | 9216 | 354 |
| 3 | Skilled | 11180 | 430 | 10139 | 390 |
| 4 | Highly Skilled | 12297 | 473 | 11154 | 429 |
Official Notification
Minimum Wages in West Bengal Calculation Rules
To calculate the daily Minimum Wages, the monthly wages should be divided by 26 days. And to calculate weekly Minimum Wages Monthly Wages should be divided by 6 days.
The Minimum Wages should be rounded off to the nearest rupees.
Daily working hour limits under Schedule employment is 8 hours and not exceeding 48 hours per week.
If an employee works on weekly off he or she should be entitled to received double wages for that day.
Employer Mandatorily required to provide weekly on on any day of the week in mutually agreed terms.
Wages should be be paid below the Minimum Wages as per the latest notification published.
Men and Women should get same amount of wages as per their skilled categories for same amount and nature of works irrespective of their Gender.
Minimum Wages consist of Minimum Rate of Wages and Dearness Allowance, if any according to the provision of the Minimum Wages Act, 1948.
You may also read: Latest Central Minimum Wages in 2022.
33 Schedule Employment Name under West Bengal
Any Establishment which is Manufacturing Company under Factories Act u/s 2(K) and does not comes under any other Schedule Employment.
Automobile Engineering and Repairing Workshop or Garage.
Beverage Manufacturing and Vending Establishment.
Biscuit Manufacturing Company or Factory.
Bottling and Packaging Industry.
Bought Tea Leaf Factory.
Clinical Establishment and Diagnostic Centre.
Confectionery and Sweet Manufacturing.
Consumer Co-Operative Society/Agricultural Co-Operative Society/Marketing Society.
Courier Service.
Employment in Engineering Works engaging less than 50 employee.
Establishment covered under Shops and Establishment Act, 1963.
Floor and Wall Tiles Manufacturing Company.
Garment Manufacturing Company.
Glass Industry.
Hotels, Restaurants, Guest Houses.
Ice Cream and Ice Candy Manufacturing.
Ice Factory.
IT Industry.
Jewells Manufacturing Establishment.
Laundry & Dry Cleaning Service.
Leather Goods Manufacturing Company.
Loading & Unloading Operations.
Malls, Multiplex, Departmental Store.
Rubber Manufacturing Company.
NBPFIs.
Private Hospitals, Private Research Centre.
Refractory Industry.
Rolling Mills.
Saloon and Beauty Parlour.
Security Service.
Sponge Iron, Ferro Alloys & Induction Furnaces.
Wood Works and Furniture Industry.
You may visit the official website of West Bengal Labour department for more information.
If you have any query regarding this article, please do comment below.